PRESIDENT MELINDA WEIBLEN 2011-2012
President's Message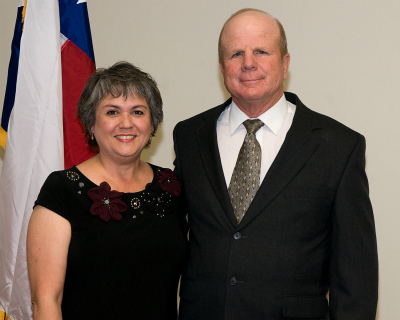 It is a privilege and honor to serve as your Federation President for 2011-2012. I am pleased and to be a part of an organization that is committed to supporting the students, programs and campus traditions at Texas A&M University.
The Federation of Aggie Moms continues to provide financial assistance to the students, the university and student organizations. We are definitely a very unique group of moms and are 121 clubs strong and growing. Mrs. Peoples would be proud that the vision she started, still continues today.
In the spirit of unity and cooperation Aggie Moms have turned that original vision into a reality. What Aggie Moms have achieved has been through the spirit and efforts of so many Moms before me. Just as our Aggies have that common bond, so do our Aggie Moms.
Since the founding of this organization in 1922, the purpose remains the same "By individual and united effort to contribute in every way to the comfort and welfare of the students, and to cooperate with Texas A&M University in maintaining high standards of moral conduct and intellectual attainment."
It is our privilege for the Federation Board to serve the clubs. Please do not hesitate to contact anyone of us if your club requires assistance. We are a TEAM and stand ready to avail our time and assistance.
I became a proud Aggie Fish Mom in 1999; this was the year the bonfire fell. I will never forget in the early morning of November 18, 1999, receiving a phone call from our son, Jarrett stating "Mom the stack fell…I am OK but some of my buddies were badly injured and are in the hospital. Please come."
Timothy Doran Kerlee, Jr., was one of his buddies in The Corp of Cadets, Squadron 16. Tim was also the 12th fallen Aggie to pass away. I recall as if it was yesterday… In the midst of such a tragedy, I was truly amazed by the out pouring of love and support the cadets and students received from the Aggie Family. In the depths of this tragedy, I witnessed firsthand the Aggie Spirit and the bond that can never be broken by these Aggies. The cohesiveness of coming together as the Aggie Family was truly a blessing. This was a defining moment in the history of Texas A&M University.
Now our country and world are faced with some difficult challenges. I found myself reflecting on the fact that our service men and women are protecting our nation and our freedoms, for which I am grateful. So many Graduates of Texas A&M University make a difference in the world as leaders of the military, government, businesses and civic service.
Once again, I was overwhelmed with the support and love of the Moms of this organization, who reached out to me to lend support and offer encouraging words when our son, Jarrett was deployed to Afghanistan. Several clubs sent him care packages, cards and letters throughout the year to show their support.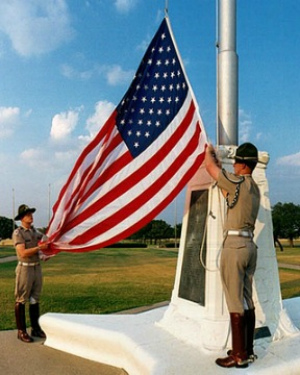 This is why, I have a selected a patriotic theme to represent my year: "Stars & Stripes and Aggie Moms Forever" and will place my emphasis and dedicate my year to The Corp of Cadets and the ROTC program at Texas A&M University.
I am grateful for our Aggie soldiers and all the men and women of our armed services who proudly serve this great nation. It is truly inspiring that these men and women of the armed services selflessly give back the very best of what America represents. I would like to recognize all the Aggie Moms present who currently have or had a family member serving in the armed forces with a small token of my appreciation. Please stand. The flag lapel pin, represents what we hold so dear in our hearts, the love of our family members who serve in the armed services and our love for this great nation. Thank you ladies from the bottom of my heart, your family members make us proud.
Now, I would like to take this opportunity to thank the past leadership of this great organization, the Federation of Texas A&M University Mothers' Clubs for establishing a solid foundation that gave this organization their heart and soul to bring us to today.
I would also like thank my husband, Glenn, thank you for your love, patience and support, while I served on the Federation Board. I could not have done this without you.
To my children, Jarrett class of 2003, his wife Stephanie class of 2004 and their son Brennan; Jason, his wife Amber and their children Landon and Jillian, I am extremely proud of the fact that both of you have given back to your country and your community. Jarrett class of 2003 proudly serves as a Captain in our great nations Armed Services and Jason proudly cares for the people in his community as is a registered nurse. Thank you both for you love and encouragement.
To my parents, Carrie and Mariano Aguinaga and family present here today thank you for your love, support and guidance through the years.
To all the Aggie Moms and Federation Board Members thank you for your dedicated service in supporting the students of Texas A&M and your continued support of Texas A&M University. Then and now Aggie Moms continue to amaze me with your strength, your heart and your soul. Thank you ladies for making a difference! Per Helen Keller "Alone we can do little, together we can do much."
Once again, on behalf of the entire Federation, a heart-felt thank you. I love this country like I love my family; this is an honor I will hold dear to my heart and will never forget. God Bless Aggie Moms and God Bless America!
Sincerely,
Melinda Weiblen
April 16, 2011
2520 FM 471 North
Castroville, Texas 78009
(830) 931-3049
More About The Federation

Federation Events

Federation President

Read Melinda's Yearbook Dedication


Melinda Weiblen
2011-12 Federation President
Save