Steps to Participate in Boutique:
1.   Registration Form:   Registration

2.   Payment:
3.    October 5:   Town Hall virtual meeting  for Holiday Boutique Information
4.   October 12:   Deadline to register and pay fees.
5.   October 26:  Deadline to submit Facebook post.

Who:  All Aggie Moms, Aggies, Family and Friends!
What:  2020 Virtual Aggie Moms' Holiday Boutique
For More Information, Contact the Fifth Vice President.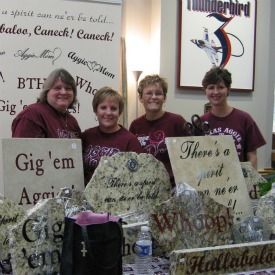 View TAMU Business Development's "Use Of TAMU Trademarks" Presentation

Visit TAMU Office of Business Development's Website for Licensed Vendor Lists.