Join Us For Aggie Moms' Boutique during TAMU Family Weekend!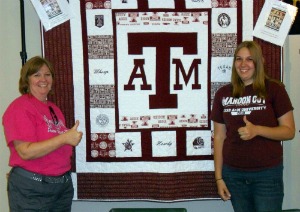 Who:  All Aggie Moms, Aggies, Family and Friends!
What:  2018 Aggie Moms' Boutique
Where:  Memorial Student Center, Upper Level & Ballrooms
When:  April 13 and 14, 2018
Sale Hours:  Friday 10 am to 5 pm and Saturday 9 am to 4 pm**
Set up: Thursday, April 12 & Friday, April 13 (times to be assigned and sent after Spring Break)
For More Information, Contact the Fifth Vice President.
**Due to the logistics of loading during the Maroon and White game, and the vast construction going on around the MSC, we have been asked to end​​ Boutique at 4:00 pm instead of 5:00 pm. This decision was made because with an end time of 5:00 pm, traffic surrounding the MSC and Kyle field would be very congested and the efficient loading of vehicles would be difficult if not delayed. Therefore, we will ​close ​Boutique​​ on Saturday at 4:00 pm. (Note: Please, do not take down your booths prior to 4:00 pm)​​ ​This means that raffles will need to be closed and announced at 3:00 pm.​ Our doors and booths will remain ​​opened ​and set up for the public until 4:00 pm​. We will ​not begin to load vehicles ​until​ 4:20 pm. This will give everyone time to stay in business until 4:00 pm and ample time to tear down before we load vehicles​ to go to the game across the street or go home.**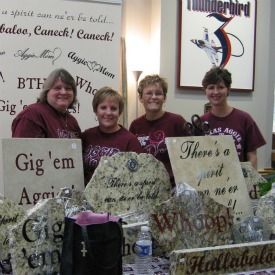 2017-18 Boutique Forms
Boutique Outside Vendor Guidelines & Contract

Member Club Reservations (Form F and Instructions)
Read the Boutique Shared Booth Guidelines

View TAMU Business Development's "Use Of TAMU Trademarks" Presentation

Visit TAMU Office of Business Development's Website for Licensed Vendor Lists.
Visit the Family Weekend Committee Website for more information and event schedules.
Join us for Aggie Moms' Boutique and enjoy Fun and Fellowship and Shopping during Family Weekend in Aggieland!