---
Excited about Aggie Moms?  Who wouldn't be? 
Well you should apply for a board position!!
Complete
Form A
and email to Corrsec@aggienetwork.com
Important Dates:
February 1 – deadline to apply through the website using Form A.
For the nomination to be considered valid and complete, both the Nominating Club and the Nominee must submit Form A by the deadline, AND the Nominating Club's Dues and Archive Fees (Form B) must be paid by the deadline.
Sunday, February 26th – Nominating Committee Interviews
Saturday, March 11th -Nominating Committee will meet and make nominations .
Katie Latham '80, VP at Large, is leading the Nominating Committee.
We hope you will seriously consider serving!
---
Winter Weekend Dinner Tickets
Rhinestone and Ranch Water
We can add a few more people! Come join the fun!
January 20, 2023  Texas A&M Hotel 177 Joe Routt Blvd., College Station, TX
Put on your Western Glitz and Glam and come join us as we celebrate and honor our donors for 2022-2023.
---
Winter General Meeting
and
Short Business Meeting
Join us for coffee and a light breakfast  with speakers:
TAMU Yell Leaders  –  Chancellor John Sharp  – Pres. Katherine Banks
Brigadier General Joe E. Ramirez '79, USA (Ret.)
Vice President for Student Affairs – The Big Event
Where:  Gates Ballroom,  Memorial Student Center
When:  Meeting Starts at 9:00 AM Sharp!   – Coffee will be ready at 8:30
Click here to register for the meeting.
---
Winter Weekend Events – Saturday Afternoon and Sunday
Join us for ALL the Fun!  
Shop for Good – Saturday, January 21st   12:00 PM – 2:00 PM  Kendra Scott
20% of proceeds will benefit the Federation of Texas A7M University Mothers' Clubs.  Give Back Code:  GIVEBACK-COXIK at checkout (online or in person)
Messina Hof – Wine Education Class and Hors-d'oeuvres – Saturday, January 21st 3:00 PM – 5:00 PM
Limited Spots – Click here to RSVP.
Queen Theatre – Movie Night and Dinner – City Slickers – Saturday, January 21st 7:00 PM – 10:30 PM
Limited Spots – Click here to RSVP.
Aggieland Outfitters – Sunday, January 22nd 9:00 AM – 1:00 PM 
Happy Trails Brunch and Shopping – Enjoy a 20% discount all day just by showing them your Aggie Moms of TAMU App
Office Open House – Sunday, January 22nd 12:00 PM – 2:00 PM   
Stop by to Sip and See – – Your NEW Federation Office!!!   Post Oak Mall outer entrance by Casa Olea 1500 Harvey Rd.
---
In Celebration of Aggie Moms
We have a raffle for you!
Relentless Design has given us one of their beautiful Aggie Mom rings!!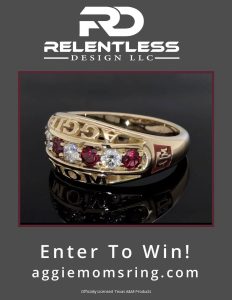 Alternating Maroon and Diamond Center stones shine brightly! This version has a bold stylized "MOM" inside the finger rail, beneath the gemstones, and the officially licensed Texas A&M logo features on both sides. Our hand-matched, maroon-colored Natural European Machine Cut Topaz stones are a perfect complement to any Aggie attire. The diamonds we use are ideal precision cut stones, F-G/VS quality.
Winner will be drawn February 24, 2023 – Tickets Still Available
---
Amazing Tailgate Sponsors – Thank You – Thank You – Thank You!!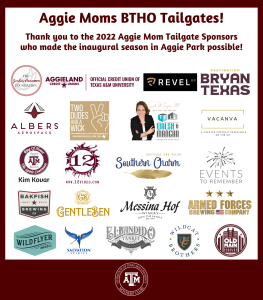 WHOOP!
Being an Aggie Mom makes you a part of a remarkable organization that connects you with thousands of women across the world who are interested in being there to support each other, our Aggies and the University.  Since 1922, moms have been coming together to help each other and our Aggies!  No other University in the USA has such an organized and exceptional group of Moms. When you join your local Aggie Mom Club, you are automatically a member of our Federation and thousands of Aggie Moms.  Welcome to the Aggie Family!  Aggie Mom video: HERE 
---
Our Mission                                                         
Our mission is "by individual and united effort to contribute in every way to the comfort and welfare of the students and to cooperate with Texas A&M University in maintaining a high standard of moral conduct and intellectual attainment".  Texas A&M University Mothers' Clubs are proud organizations, proud of Texas A&M and proud of the daughters and sons they send to Texas A&M.  Aggie Moms are also proud of making a contribution: to the education of their students, to the future of Texas A&M and to the future of the Great State of Texas.
---
Make a Gift to the Federation
---
Special Thanks to Our Most Generous Donors!
Click on the logos to view their websites.
Save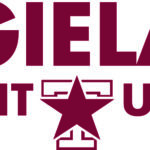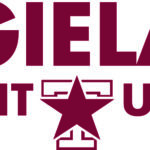 Click on this for your listening enjoyment:   The Aggie War Hymn  
Save