Our Mission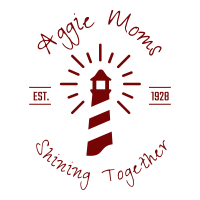 The Federation of Texas A&M University Mothers' Clubs was organized in 1928 and has grown to include 108 individual Member Clubs located across Texas and the nation.  Our mission is "by individual and united effort to contribute in every way to the comfort and welfare of the students and to cooperate with Texas A&M University in maintaining a high standard of moral conduct and intellectual attainment".  Texas A&M University Mothers' Clubs are proud organizations, proud of Texas A&M University and proud of the daughters and sons they send to Texas A&M.  Aggie Moms are also proud of making a contribution: to the education of their students, to the future of Texas A&M University and to the future of the Great State of Texas.
We invite you to join an Aggie Moms Club in your area.  Joining and participating in club meetings and events are excellent ways to become familiar with Texas A&M University, to support your Aggie, and to form lasting friendships with other Aggie Moms.
2020-21 Aggie Mom Interest Form

Join our Facebook Group! Be sure to answer all of the questions for a speedy approval.
Recent Additions to Our Website
---
Aggie Moms Are Special
Being an Aggie Mom makes you a part of a remarkable organization that connects you with thousands of women across the state, nation, and world who are mothers of Aggies and are interested in being there to support each other, our Aggies and the University. Since 1922, moms have been coming together to help each other and to support our Aggies!  Please enjoy this special depiction of what an Aggie Mom is and how the impact of Aggie Moms is felt by those we serve. View the video by clicking here.
Please encourage your student to opt-in on their Howdy Portal so that your family receives information from your local Aggie Moms' Club.
Check tx.ag/aggiemomsevents throughout the year for events. Contact 1stvpmembership@aggienetwork.com with questions or to be adopted by an Aggie Mom Club.
---
Make a Gift to the Federation
---
Special Thanks to Our Most Generous Donors!
Click on the logos to view their websites.