Join Us For Our Annual District Meetings!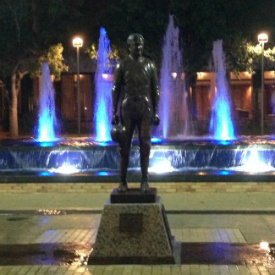 Every year the Federation organizes individual meetings for each of our Districts.
District meetings were originally created to help clubs learn from each other on topics such as membership recruitment, fundraising, and program ideas.  The meetings were also opportunities for moms to get to know each other on a geographic level.  Back when district meetings were first started there was no internet or email or cell phones – the transfer of information was by postal mail or in person. So the original district meetings were wonderful opportunities for the Federation leadership to share news and information straight from the University with the clubs.
Now the University is able to share news and information via the internet on a daily basis.   We recognize that our members are busy moms who generally keep up with their students frequently but who are interested in learning about ways to strengthen their clubs and in making valuable contacts with other Aggie Moms in their area.
Members spoke and we listened. You asked for meetings with more "substance" and less "frills."     As a board we are trying to find new ways to stay relevant as we face the reality of life at Texas A&M!
For More Information about District Meetings, Contact the 6thVPDistricts@AggieNetwork.com