Join Us For Our Annual District Meetings!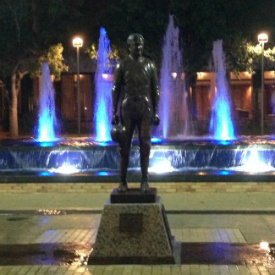 Every year the Federation organizes individual meetings for each of our Districts. Important information and details regarding the 2018 District Meetings will be posted here when they are available.
District meetings were originally created to help clubs learn from each other on topics such as membership recruitment, fundraising, and program ideas.  The meetings were also opportunities for moms to get to know each other on a geographic level.  Back when district meetings were first started there was no internet or email or cell phones – the transfer of information was by postal mail or in person. So the original district meetings were wonderful opportunities for the Federation leadership to share news and information straight from the University with the clubs – a very much needed way to keep moms up-to-date with the happenings of their students off in Aggieland.
District meetings over the past decade or so had evolved into themed parties with elaborately created invitations, entertainment, speakers, games, door prizes, party favors, and party food, in addition to the sharing of club reports. Now the University is able to share news and information via the internet on a daily basis, and moms can keep up with their students minute by minute due to all of the technological devices we now have available to us.  With this new "Leadership Model" we recognize that our members are busy moms who generally keep up with their students very frequently but who are interested in learning about ways to strengthen their clubs and in making valuable contacts with other Aggie Moms in their area.
Members spoke and we listened. You asked for meetings with more "substance" and less "frills."   This new format helps us offer what it is you are looking for and have asked for.  As a board we are trying to find new ways to stay relevant as we face the reality of life at Texas A&M !
The Table below contains information about the 2019 District Meetings. Please continue to check back for location information.
District
Liaison
Date/Time
Location

District #6

Saturday, January 12

League City

District #7

Sunday, January 13

Beaumont

District #4

Wednesday, January 23
6:30 – 8:30 PM

Sealand Seafood
2201 Highway 290 E.
Brenham, TX 77833

District #18

Thursday, January 24
6:30 – 8:30 PM

Cozy Grape Wine Bar & Bistro
14340 Liberty St
Montgomery, TX 77356

District #20

Saturday, February 2

UVALDE – TBD

District #8

Sunday, February 3
2 – 4 PM

La Madeleine
8134 Agora Parkway
Schertz, TX 78154

District #21

Monday, February 4

BOERNE – TBD

District #11

Saturday, February 9

ALICE – TBD

District #19

Sunday, February 10

VICTORIA – TBD

District #17

Thursday, February 28

CORSICANA – TBD

District #2

Saturday, March 2
10 AM – Noon

La Madeleine
11930 Preston Rd.
Dallas, TX 75230

District #1

Saturday, March 2
2 – 4 PM

FORT WORTH – TBD

District #16

Sunday, March 3

BOWIE – TBD

District #3

Thursday, March 7

NACOGDOCHES – TBD

District #12

Friday, March 8
6:30 – 8:30 PM

La Madeleine
419 WSW Loop 323
Tyler, TX 75701

District #9

Saturday, March 23

COLEMAN – TBD

District #5

Sunday, March 24

ROUND ROCK – TBD

District #10

Saturday, March 30

LUBBOCK – TBD
For More Information about District Meetings, Contact the Sixth Vice President.